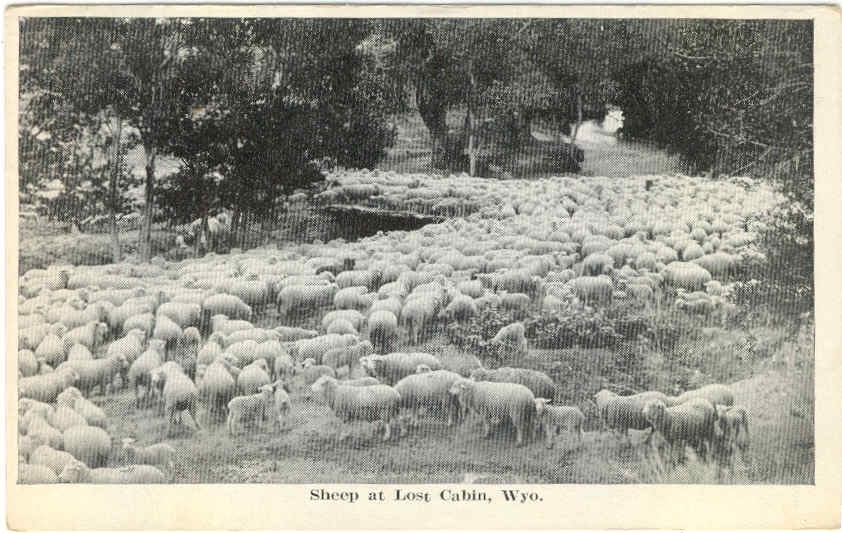 Sheep at Lost Cabin, undated
As in the instance of cattle ranches in the 1880's, with the rise of the wool growing industry, mammoth corporate-owned sheep ranches were created. John B. Okie, owner of the Big Horn Sheep Company, had financial interests ranging from Wyoming to Mexico. In Mexico he had rights to the Piggly Wiggly franchise and would travel in the 1920's to Mexico by air. In 1930 he drowned while duck hunting on his ranch. By the early 1950's the Yellowstone Sheep Company of Riverton had accummulated 17,000 acres and additionally had an allotment under the Taylor Grazing Act of 3 1/2 townships. A township contains 36 square miles. The Taylor Grazing Act, still a source of controversy, was passed in 1934 and provides for grazing preferences in the use of public lands. Its validity was upheld in 1996 by Wyoming U. S. District Court Judge Clarence A. Brimmer.
The majority shareholder of the Yellowstone Sheep Company, John K. Hartt of Rawlins, was also the majority shareholder of two other corporations, the Cow Creek Sheep Company and the Pioneer Sheep Company. The two between them had accummulated control over 94,000 acres of land in Sweetwater and Carbon Counties. Hartt, himself, arrived in Wyoming shortly before the turn of the century, pennyless, allegedly getting off the train in Rawlins because that is as far as he could afford a ticket. At the time of his death in 1952 he had interests not only in the sheep companies but also land in Colorado and an interest in a bank. For Hartt family photos see a website maintained by Hartt's granddaughter.


Sheep wagon, March 1940, photo by A. Rothstein
Sheep wagons were supposedly invented by Rawlins blacksmith James Candlish in 1884. Around 1900, Schulte Hardware Company of Casper standardized the wagon as 11 feet long and 6 1/2 feet wide, canvas top and stove. By 1904, sheep wagons were being manufactured in the Big Horn Basin by D. V. Bayne of Thermopolis. The wagons later could be purchased from, among others the Studebaker Brothers of Southbend, Indiana. Some are still in use in the Big Horn Basin. The Basin is not the only place in the state, however, where sheep wagons were used until comparatively recently. The above scene is on U.S. Highway 30, the Lincoln Highway, in Sweetwater County.

Sheep wagon, March 1940, photo by A. Rothstein

The woolgrowing industry in Wyoming began its decline with World War II with a shortage of manpower. Although Wyoming in 1910 had approximately 5 1/2 million sheep, today it has barely 10% that number, hardly more than the number of people in the state.

Sheep, U.S. Rte. 30, 1941, photo by J. Baylor Roberts