Oregon Short Line Depot

The Oregon Short Line ran from Granger to Huntington, Oregon, which it reached in November, 1884. The OSL was under the control of the Union Pacific. In 1893 the UPRR went into bankruptcy. In 1897, emerged as an indempendent, the Oregon Short Line & Utah Northern. The UPRR, itself came out of bankruptchy the following year, 1898, and within two years the OSL was again under the full control of the UPRR.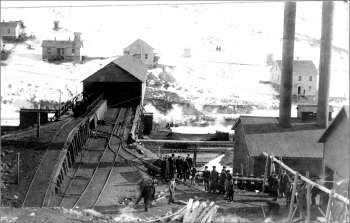 Pit mouth, tipple and boiler house, Mine No. 4, Susie, Wyo., 1912
On June 20, 1912, an explosion at the No. 4 Mine, owned by the Kemmerer Coal Co., killed 6. Mining has always been dangerous. On June 30, 1903, 169 were killed at Hanna, Wyo. An explosion at a mine in Monongah, W. Virginia in 1907, killed 362 men and boys and resulted in improved mine safty laws. Nevertheless, fatalities continued. Prior to 1910, when Congress formed the Bureau of Mines, fatalities exceeded 2,000 annually.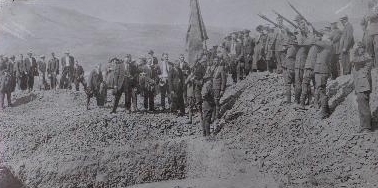 21 Gun Salute, August 14, 1923, Mine Disaster

On August 14, 1923, an explosion at the Frontier Mine owned by the Kemmerer Coal Company, killed 99. The above photo is of the twenty-one gun salute given the miners buried in a mass grave. The bodies had earlier been laid out at the Odd Fellows Hall. The remaining pictures on this page are taken at approximately the same time by Jackson Studio, Kemmerer.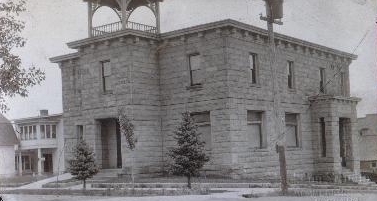 Kemmerer Town Hall, 1923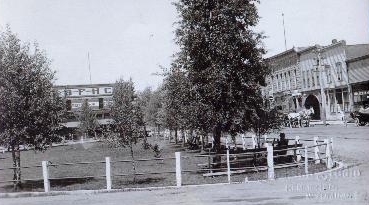 Kemmerer, Wyo., Triangle to left, 1923